I've followed season 4 of
Bravo's Project Runway
continuously this time around. It was no surprise to me that
Christian
won.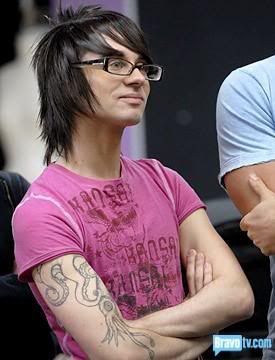 The guy is only 21 and talented beyond his years. I didn't always agree with his point of view, but he remained consistent through out the competition, with outstanding work.
I enjoyed this show because of the creative process, and because I grew up with a mother who sewed to perfection. I know I've said this before, but my mom grew up handling a lot of the finishing work for her mother who was the town seamstress/tailor. My mom was very anal and precise about her sewing and would have been all over Project Runway. Too bad a show like that wasn't around when she was alive.
I pretty much agreed with the top three finalist, but I really enjoyed a few of the contestants who just fell short of the top 3, such as
Chris March
, known for his outrageous costumes.
I also enjoyed seeing what the other top contestants had, such as
Rami's
great attention to detail with his passion for draping and pleating,
and
Jillian's
intricate styles and fabulous coat designs.
This show was the only one I currently paid attention to. I didn't follow any TV dramas or sit-coms, and the most TV I had watched was the morning news. This was my little escape for the evening when it was on, and if I happened to miss an episode, there was no worry. Bravo rebroadcasts their shows a gazillion times. I enjoy the creative process, even if it's me watching someone else be creative. I must add that I did get inspired, but I might make a simple pair of shorts that will take me a good part of the day to complete, and not an entire formal outfit. Now that season 4 of Project Runway is over, I'll be catching the next season of
Top Chef.

Yesterday's Song:
The New Transmission - Lost Prophets -
Barbie2be

Peace