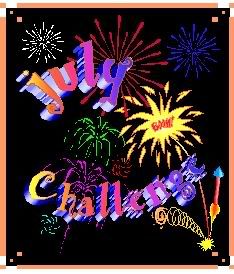 I've entered yet another challenge on
Pink Dumbbells
, but this time I will finish THIS challenge. I've entered two other challenges that I didn't finish.
Today I finally tried a full Kinetic workout.

I received Kinetic, a Playstation 2 "workout" program, from my kids for my birthday earlier this month. I'm sure, once I get used to it and figure out the camera angle so I can hit ALL the marks, that it will be a quite useful tool. Even though I did enough movement to feel like I managed a half-way decent work out, I scored a "D." I couldn't hit the marks on the lower right hand side of the screen... I'll get it figured out yet. Matt was my PT. I do realize that once I get better at it, the difficulty level will rise. Right now I feel like it wasn't quite the workout I'm used to, especially for cardio -- it doesn't seem to be enough, BUT it makes me realize how uncoordianted I am at the moment. There's always something to improve on.
Renee made very small pancakes for breakfast this morning. I had 2 with sugar free syrup and a small cold glass of plain Silk soy milk. Her 2 pancakes probably equal one regular sized pancake. She's been making them smaller for Evan, but they're the perfect size for me. Food for the rest of the day should be really clean. I have an abundace of yummy yellow squash from my garden and Michael picked up some steaks at Costco. Right now I'm going for a icy cold protein shake...
Reality check:
Weight still at 129.
My goal is 120.
Things that went right:
*Used Kinetic
*Eating is okay. Perhaps pancakes wasn't the best choice but they were at least half of what I could have eaten, plus I used sugar free syrup.
Things that need improvement:
*Get better at using Kinetic.
*I have a sad dog. She went to the vet yesterday for a skin irritation. The vet shaved the affected area and is now on cephalexin and prednisone, and has to wear an Elizabethan collar so she won't bother the affected area...
Peace