RANT
and checking in...
Due to my lack of cardio, I went walking, but this was purely unintentional walking while shopping. I did several errands this morning and figured that I could find a strapless bra that goes a little lower in the back instead of straight across, perhaps a bustier type. First of all, shopping does not float my boat, and second, bra shopping is something I would rather do on line, just because customer service at most stores is horrible anymore. I also used to work retail, and that cured me of getting a shopping rush. I parked far away from where I wanted to park because they were resurfacing that side of the mall's parking lot, so I had a ways to walk. I first went to Victoria's Secret but the store was closed due to the possibility of black outs, with the temps being too hot... They had the store closed between 12 and 2. I was there at 1:00 pm... Then I hoofed it over Nordstroms. The sales person was actually very nice, and I did find a bra I liked BUT it did not come in my size at all in that style... She did try to find another type but I needed strapless with a low back. I checked out Macy's, Robinson's May, and Fredricks, but nada. Macy's had the least helpful sales people. Robinson's May's sales staff were non-existent. Fredericks staff were okay but because they didn't have what I wanted, they didn't offer an alternative. By this time an hour had passed and VS was open. The "greeter" at the front door directed me to someone who could help me, who turned out to be no help because she was clueless... It can't be THAT hard to find this sort of bra because they make dresses that do go low in the back. I ended up at a completely different mall at a formal dress store. They didn't exactly have what I was looking for but they did help me with an alternative. It's a strapless bra that adheres to your sides. I purchased it and I pray that it works! The dress I need this bra for is a multi colored, asymmetrical hemmed, silk dress with beads for straps. I purchased this dress a long time ago and thought a standard strapless bra would work, but it doesn't. If that sticky bra doesn't work I may end up using duct-tape...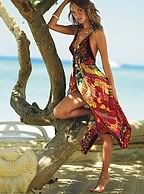 Oh, and several stores did not have their escalators turned on, due to possible power shortages... So I got some real stair climbing in. My feet are tired but doing okay... Maybe this means I can go running next week?

End of rant.
Sorry. I just had to get that off my chest, no pun intended.
Nutrition today has been very, VERY clean. Tonight is date night with hubby, and that's usually a free meal, but not always.
One
up
thing about shopping today, as much as the dressing room mirrors always seem to accentuate my flaws, my back and arms surprised me. They're more toned than I thought they were... That made the shopping trip better...
Peace