In yesterday's blog post I had talked about how someone asked me if I missed running. I really wasn't looking for sympathy. I was surprised that I didn't get a lecture about the dangers of running and how I should start checking out other sports, (and then they go light up a cigarette...) Seriously, though, I was just surprised that someone I hadn't seen in a while would think to ask if I had missed something I had enjoyed doing. I know I have the support of my blogger friends, and heaven knows I wasn't fishing for sympathy. I guess I was just taken back a bit. I know I'll be back to running. I may have different goals when I do get back to running, but I'll be there.
Keeping all that in mind, check out this 92 year old woman. I wanna be like her when I grow up.
"Said she started running twelve years ago after she broke her hip."
Amazing.
Food stuff...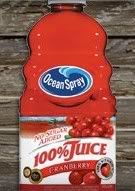 I know some people say that juice is loaded with added sugars, etc, and that is true, but I still like my cranberry juice.
Other stuff...
I've been having computer issues over the past week. We've been plagued with some sort of virus or trojan horse, and it's just wreaking havoc on everything. This is the second time I've written this blog post, since I'm having issues trying to save it. Yes, we've run Norton and Ad Aware, and did a disk clean up, BUT... since a certain 5 year old figured out how to get on some kiddie game sites, it has been something new with computer problems, each week.
Yesterday's song:
Dream A Little Dream - Mamas and the Papas -
Barbie2be
PEACE