WHAT?????? I'm talking about shoes.... Sheesh!
I have an upcoming event to attend in August. It's Michael's 30th high school reunion. Yeah, we're THAT old... I purchased a multi-colored, wrap around, silk dress with beads for straps, and it has a handkerchief hem. I purchased the dress MONTHS ago, on line, just in case it would take a while, and it did. Now that the dress is here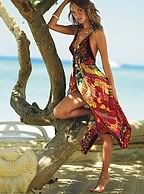 and it fits, I needed shoes to match. I tried to order shoes on line but my size was not available. I waited too long...
Yesterday I went out shopping. I've spent a lot of time working retail in the early years of my marriage and it pretty much took away the thrill of shopping. Shopping just doesn't float my boat. I made my way to DSW shoes. This store has a bazillion shoes. It's overwhelming. I found my discontinued Asics there, but they still weren't marked down enough. I found
shpprgrl's
Keds flip flops... I finally went down the high-heeled, evening shoe and strappy sandal aisle. I found a silver pair of Manolo Blahnik knock offs, like the ones Carrie Bradshaw (
Sex and the City
) is admiring in the picture above. Suddenly, there's the shoe I'm looking for. I see it up high, just down the aisle. It's the right color, in red, high heeled and strappy, and in my size. Perfect. Then I see a red, pointy toed pump,
perfect to wear with my jeans that I'm too lazy to hem up. Hmmmmmm, that might work. I sit down and take off my old Nike running shoes to try these heels on. It's never good to try on high heeled shoes a few days AFTER running a marathon. I could barely stand up... My left ankle is sore
and my toes on both feet felt squashed... I've been wearing flip flops and old running shoes since the marathon because my feet are still a little puffy... Should I check the sensible shoe aisle? NOPE... I purchased both pairs of shoes AND a pair of pink Nike flip flops. My feet should be recovered by August, just in time for the reunion... I hope.
Peace