Activity: Run
Date: 07/11/09 06:49 AM
Distance: 6.02 miles
Time: 1:01:09
Speed: 5.9 mph
Pace: 10' 09 min/mile
Calories: 575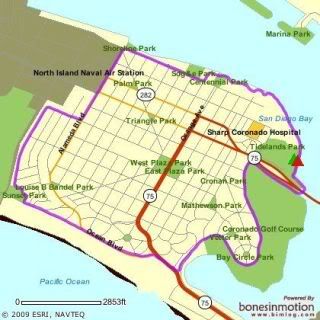 Another great track club run complete! I ended up running the route around the island because the Silver Strand route was more for the people who are running in the AFC half marathon next month, and I really didn't need to put in THAT much mileage. I was perfectly happy with the 10K I put in, besides, Coronado is such a pretty community and I didn't mind running down the quiet, shady neighborhood streets. We also had some humidity being pushed up from Mexico, at about 85%, so most of us were pretty well drenched in sweat by the time we were done. We're used to very dry weather here, and I had to pay close attention to how I was breathing so my asthma wouldn't pose a problem. One of my running friends commented that my running form looks more fluid, less stiff, and that's a good sign. Since I can't see myself run outdoors, I have to rely on what others tell me, and it sounds like I did OK with form today, but I wasn't fatigued, either. Even though, I still have plenty of work to do.
SPLITS
Mile 1 10:01
Mile 2 9:55
Mile 3 9:51
Mile 4 10:30
Mile 5 10:15
Mile 6 10:16
End 14:11 (extra time for fumbling to turn off the GPS)
It was absolutely gorgeous this morning. I really need to keep an inexpensive digital camera in my car at all times. My cell phone pictures just don't do justice to any gorgeous scenery. We began the run at the same place as last week's 5k/15k event, but it was sunny with a nice breeze this morning. The sun just glistened on the bay. One of the track club members was taking pictures but I don't know if he managed any pictures with the bay in the background.
Note to self: stash the cheap camera in the car.
Have a beautiful weekend!
Thursday's song:
Lather, Rinse, Repeat - The Chickpeas
PEACE