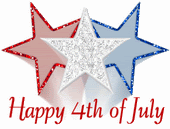 Activity: Run
Date: 07/04/09 07:35 AM
Distance: 3.06 miles
Time: 0:29:11
Speed: 6.3 mph
Pace: 9' 32 min/mile
Calories: 293
Out of the tens and under 30!
We ran in the Annual Coronado Independence Day 5k/15K this morning. My main objective was just to get parking, since the island can become rather congested quickly with 4th of July beach-goers, parade watchers, and runners for the 5k and 15k events.
I had no real race strategy until I was actually running. Sure, the mind always wants to go faster than the last race, but I knew how crummy my last run was, and I just wanted to keep an even pace and have some speed for the sprint at the end without wanting to throw up. Mission accomplished. Here's my splits per
BiM
:
Mile 1 9' 26
Mile 2 9' 28
Mile 3 9' 45
end 7' 46
I didn't think I could get out of the 10 m/m pace so quickly after my last 5k just barely a month ago, especially when adhering to the 10% rule, to never go faster than 10% until you're ready to. I'm surprised.
I quickly checked my stats before we left and my time at that point was 29:17. Official results will be posted later today.
We also saw a lot of track club members, but we didn't remember to bring out the camera until we were leaving and saw Marisan right after she finished her 15K:
...and she took a picture of us:
Michael had a good run, too. He finished around 32:30, and he wasn't expecting that, either. His last 5k was around 34 minutes.
Thursday's song:
The Best Is Yet To Come - Frank Sinatra -
Katiefeldmom
P
E
A
C
E
EDIT
RACE RESULTS
468 IRENE M 2543 50 6/51 F San Diego CA
29:18
9:26
I guess being in a new age group has advantages. I placed 6th in my age group!