Activity: Run
Date: 07/16/09 11:42 AM
Distance: 3.41 miles
Time: 0:34:13
Speed: 6.0 mph
Pace: 10' 03 min/mile
Calories: 327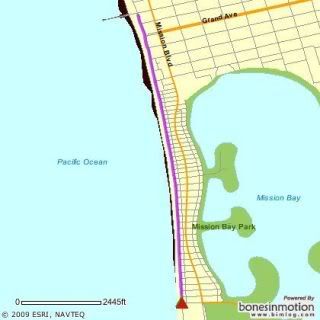 Today I decided to change things up and did an out and back run at Mission Beach. I had to laugh a bit at the elevation graph because I usually have no choice but to run hills where I live. Here's how flat it was:

OK, so there's a little blip. That was just going up a slight incline towards the pier where I turned around. Knowing I would be at the beach, I brought some swim wear, a towel, sunscreen and my camera.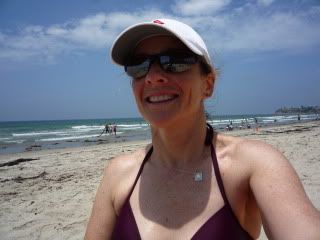 I'm still trying to figure out the self portrait thing.
(Penny, how do you always take such cute self portrait pictures? Do I need to bring my dog along?)
It's an odd angle, but, for whatever it's worth, that's me at the beach. Yes, I did go in the water, and it felt wonderful, especially on my tired legs.
I need to run at the beach during the week more often.
I had my session at RU yesterday. Even with DOMS it was more of the same. I was spent when I was done, but it was good. Eventually I'll have the body to go with the workouts. I'm still working on the fluff.
Tuesday's song:
Generous Return - Bruce Myers
PEACE