Pics from the San Jose Rock N Roll Half Marathon
here!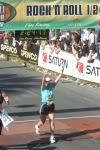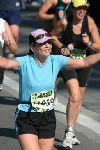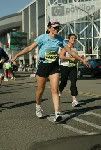 Not in great running form in that third picture... I was cheering for one of the bands on the route and the photographer got me as my arms were going down... Hehehe... I'd probably go faster if I didn't get caught up in the moment. Oh well. What can I say? I enjoyed myself!
I've had a rather busy week and this weekend will be more of the same. I haven't worked out as I had wanted to but I've been in constant motion since returning home on Monday. I had the intentions of writing out my workout plan so I could see it daily, but I haven't done that yet. Eating has been so-so but my weight is still amazingly the same. I was expecting a fluctuation due to the .5M, but that didn't really happend this time.
There's plenty going on at the moment. The tech job at the office has been put on Craigslist but there hasn't been a big response, so I could be working there for quite a while. We're looking for a pre owned light truck for DS. Right now I'm sharing my car with him and it's getting a little difficult.
Have a great weekend everyone!
Peace