Wednesday/humpday is now officially catch-up day, at least until my temporary stint at work is through. Today was my visit to the chiropractor, banking, grocery shopping, cleaning the house, and laundry, e-mails. I also need to come up with a costume for Halloween. My bosses' favorite holiday is Halloween, and we'll be open that day AND we're all dressing up.
I might borrow my daughter's pirate wench costume and add a fluffy blouse to it. I have a fairy costume
but the wings are too wide to make it down the office halls, and I might poke someone's eye out...
Monday I did a gazillion sqats and lunges without weights. I didn't count but I did as many as I could do in a 2 minute time frame, rested for a few minutes then did more of the same, over and over again. I also did about a half an hour of stretches. I wasn't super sore but I was definitely feeling tight. Tuesday I had a battle with my allergies. It must be the dry weather we've had lately, because there's very little moisture to hold the dust down. I had puffy, itchy eyes all day, plus sneezing and wheezing. They had some sample allergy eye drops at work, which did offer some relief, but the allergy thing really wore me out, so no workout. Today I have a date with my Bowflex for UBW, which will happen this evening, after I knock out my "to do" list...
I'm still pondering the RNR half marathon in AZ in January 2007. DH and I have decided to do a 5K in a couple of weeks that offers brunch afterwards. We're not going to beat any of our times... We're going for the brunch!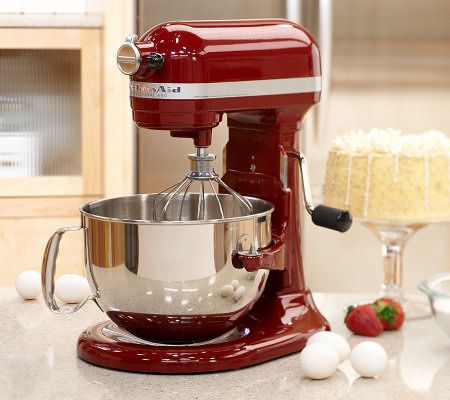 I had a splurge today... I went to Costco and picked up a Kitchenaid stand mixer in red, finally. I've wanted one for a long time. A woman waiting in line at the check out asked me if I would actually use it... Huh? I felt like saying "No, I've just spent over a couple of hundred bucks on a mixer that's going to take up valueable counter space in my kitchen, and to irritate the hell out of my husband!" Actually, I just said "Yes, I have plans to use it." I'm too frickin' nice. If I were to spend over a couple of hundred bucks on something to look at, I'd buy jewelry or a new watch... ANY WAY... It's extremely fabulous and I have major plans to use it over the next couple of months. I really do use all of my cooking gadgets and appliances. I can't even count how many blenders we've been through...

Peace