Yesterday

Activity: Run
Date: 08/10/09 06:33 PM
Distance: 2.90 miles
Time: 0:30:15
Speed: 5.8 mph
Pace: 10' 25 min/mile
Calories: 277
In addition to working out at RU, I did a 30 minute easy run much later on at the bay after another Runner's World Magazine wear test running shoe distribution. I ended up with these: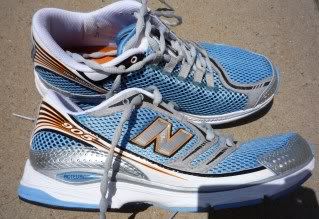 I'll keep you posted on how I do with these. So far they're OK!
Today
Activity: Run - Treadmill
Date: 08/11/09 12:00 PM
Distance: 3.11 miles
Time: 0:30:00
Speed: 6.2 mph
Pace: 9' 38 min/mile
Calories: 285
I did the interval workout B gave me. It was killer, and my calves still aren't recovered from last week's long run with the track club, so I had to do the last few sets of intervals a tad slower. The treadmill I ended up on was programmed to shut off at 30 minutes, and I needed to be on there for 34 minutes. Had I known this I could have planned better. Most of the treadmills aren't programmed like that. Oh well. Since this sort of threw off my rhythm, I just did a cool down for 5 minutes at a walking pace and called it a day.
Yesterday's song:
Life Is Good - Kenny Chesney -
Katiefeldmom
PEACE