I've been tagged by
Chantal
...
This one's the 7 unknown facts about me.

1) I am the middle child. My brother is 4 years older and my sister is about 5 1/2 years younger. Since there was such an age difference between the three of us, I never went through the Jan Brady/middle child thing, maybe because I was the second born grandchild but the first born grand-daughter. My grandparents on my dad's side spoiled me rotten.
2) I have no real favorite color. I do, however, go through color phases. Right now I like brighter/lighter shades of green. Before that it was purple. Before that it was cobalt blue. I also like to decorate with burgundy and reds, but peach is nice, too. Light blue is calming and is the color of my dining room. My kitchen walls are light yellow. I have red dishes and kitchen accessories. I'm an interior designer's nightmare.
3) I've had gray hair since I was in my teens. It was just a couple in the back.
4) I had my first airplane ride when I was age 4. My uncle, an airline pilot, chartered a small plane and took several of us for a ride, mostly family members. I rememer getting all dressed up for the occasion. 5) My next flight wasn't until I was 23, when I flew to the east coast for a 2 week last hurrah trip to visit friends, before getting engaged.
6) Shoe size 6 1/2. Most running shoes 7.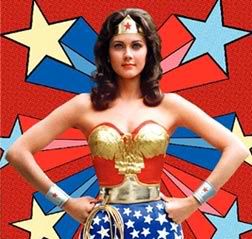 7) I didn't use any drugs when I gave birth to my kids. The first time was by choice ~ I am woman, hear me roar... in pain. What was I thinking??? The second time was not by choice. The baby was in a hurry... If I were to do things over, you bet the word "epidural" would be in my vocabulary, and on my wish list.
I tag anyone who hasn't done this yet.
Peace