Most of us know that October is Cancer Awareness Month. I had my mammogram, along with a
DEXA
scan a couple of weeks ago. I scheduled two back to back appointments, just so I could get it all done in one trip, in the same department. When I get to the check in desk, in line, the desk clerk just said "up." Huh? She repeated "up" and looked at me. Alrighty then. What ever happened to "may I help you?" It gets even better. I'm called back into the room with all the equipment, change into the hospital robe and the radiology tech directs me into the machine with the squishers, but something isn't right. I'm not a radiology tech, but I've had this done before, so I knew what to expect. She kept readjusting me to the point that I was on my tip-toes, otherwise I would have been hanging from the machine by my breast. Yeah. I know! She still can't figure out why it's not working, so she has me step out of the machine, READJUSTS THE MACHINE SO IT ACCOMMODATES MY HEIGHT and does the other side, and everything is just peachy, no problems, but she kept on insisting it was my fault that she couldn't get me in the machine properly. Maybe it was my fault for showing up on her shift. I dunno. I guess someone handed out a box of bitchy pops that morning because the feel of the entire radiology section was rather tense. The DEXA scan (bone density testing) went OK, the lady there was actually nice, so maybe she's allergic to bitchy pops... Don't let my fun with a mammogram deter you from getting yours.
A mammogram is just part of all the things you can do to help detect breast cancer
.
Last week I had my now annual visit with my Endocrinologist. The DEXA scan results were not there, which was the whole point of my visit. He said that it normally does not take long for those results to be analyzed and posted, so I basically had forked out my copay just to say hi. Honestly. We did go over protocol and my lifestyle, and said he I was "young." Nice to know 50 is considered young. He recommended keeping me on bone builders for another couple of years and get another DEXA scan, reevaluate, and perhaps adjust the meds or go completely off of them. He did write me up a new Rx and that was that. I'm still waiting for my DEXA scan numbers, by the way.
I started looking at my running shoes and realized that the treads were shot on the two pairs I use the most. My favorites, the Asics Gel Nimbus 11's are showing the most wear, and my New Balance 905's are still decent, but with the the couple of half marathons looming I will need a new pair before November, and the NB's won't last me that long, especially with some longer runs planned. I really shouldn't be spending full price for a pair of running shoes right now, so I went looking for a bargain.
I visited the Road Runner Sport's clearance center, behind the actual store, and found a pair of Pearl Izumi's Cruise, a brand new pair, in the once worn section, for $77. They normally sell for around $110. Apparently, they don't carry Pearl Izumi's in stock, they all have to be special ordered direct from the company. I'm guessing that these were an order that didn't work out because they are a new, current model with absolutely no signs of wear.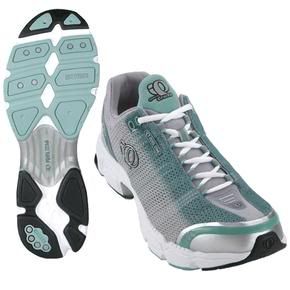 I also found a pair of insoles for high arches for $8, and those normally run between $16 and $24.
Just for fun, I went into the regular retail section of the store and wanted to try on a few different brands, but they were out of stock in just about every shoe I wanted to try on, at least in my size. That was a surprise because that's their flagship store. Ah well. Next time. I guess with the Fall brings more run/walk events and more people need shoes, meaning even RRS *runs* out of shoes (in my size).
Running and working out are going well, except for a flu bug that I'm dealing with. If I can run and workout without throwing up then it's a good day.
Sunday's song
Wherever I May Roam - Metallica
PEACE