Activity: Run
Date: 04/11/09 09:39 AM
Distance: 14.25 miles
Time: 2:42:44
Speed: 5.3 mph
Pace: 11' 25 min/mile
Calories: 1376
Today's long run with the track club started at La Jolla Shores - right on the beach, and went up the coast to Del Mar and back, but we came back through Torrey Pines and by UCSD. This run includes a huge (killer) hill with a pretty steep incline. I did OK and felt really good about this particular run. I'm not beat up like I was last week. It was also drizzling and much, MUCH cooler than last week's run. It was perfect running weather.
I was prepared for the weather this time. I wore my leggings for the entire run, but had an huge pair of old running shorts in my car, which I put on after the run, then jumped in to the water to cool down my hot, swollen legs in the 50-something degrees water.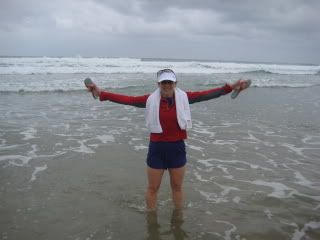 The water felt good once I got used to it. I went half-way in.
It also looks like I'm going to lose a toenail. The big toenail on the left foot is nice and purple, doesn't hurt, but feels weird. I wish it would just fall off already.
I briefly thought about photo documenting the toe, but I'll spare you all.
Thursday's song :
I Second That Emotion - Smokey Robinson & the Miracles -
Miss Rachel
PEACE