Yesterday was a "free" day in every sense of the word "free." I normally don't take an entire free day, but I was home all day, dealing with day one of TTOTM, laundry and a warm day. I enjoyed some left-over Halloween candy (Almond Joy, Reese's, Kitkat, and Heath Bars), a coke, and a lot of high carb foods. Amazingly, I don't feel sick to my stomach and I didn't blow up with extra water weight. I can't even remember the last time I had a regular Coke.
Today I ran my 2.5 miles in my hilly neighborhood in 24.21 - Not my fastest time but it felt pretty good, and I didn't feel as draggy as I had anticipated, especially since it was already 80 degrees when I set foot out my front door.
I did my civic duty and voted today. The polls are located at the neighborhood elementary school, about 8 blocks away. It always amazes me how many people drive to the polling place, even if it is a few blocks away. Of course I walked! (When my son attended that elementary school, I'd walk with him every morning. I'd always see the same families who lived just one block from us hop in their stationwagon every morning and drive the few blocks to the school. Sheesh.) Well, now that voting day is here, I'll be happy that I don't have to see another political flyer in my mail, TV spots where everyone is bashing eachother, and the phone messages on my machine with Arnold's recorded voice telling me to get out and vote...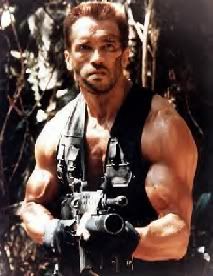 It's barely November and my December dance card is getting full, with various holiday parties for our places of employment, groups hubbie belongs to and our anniversary... I think we're gonna need a vacation after the holidays. Hmmmm. I'm still thinking about the
Rock N Roll Marathon and Half Marathon event in Arizona
in January. It would be a good excuse to get away somewhere. Yeah, we know how to relax...
Peace