Randomness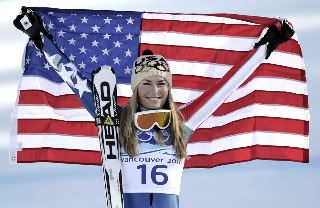 Like many of us, I spent the past 16(?) days catching up on the 2010 Vancouver Winter Olympics, cheering for our country participating in sports I know little about. I am familiar with downhill skiing, cross country skiing and ice skating, only because I've had lessons in each of those activities, but I'm far, far, FAR from being a pro and have never competed, but I can confidently say that I can get myself from point a to point b. I know nothing about hockey, but I can get the gist of the game, and I found myself cheering and yelling at the TV a few times. Same thing with snow boarding, speed skating and bob sledding. I'm sure I would have been yelling at the curling event, too, but it wasn't on when I watched. Oh, and what about some of those guys (and women) in their super suits? You really have to have quite the physique to pull off one of those super fitted race suits. Now that the 2010 Winter Olympics are over, I'll have to find something else since American Idol is a yawner this season. At least I still have
Project Runway
.
I actually got out and ran with the track club on Saturday. We ran at one of my favorite locations, starting at
Tidelands Park in Coronado
, along the
Silver Strand
to fit in the time or mileage and back. A lot of people don't care too much for the Silver Strand, but I like it. I can find my groove there and just go with it. It figures that rain was in the forecast for our run. It seems it has rained three out of the four Saturdays in February, and that one non rainy Saturday I was sick. In spite of the rain there was a decent attendance of track club members. My mileage for this 2 hour out and back run was exactly as it was when I did it last year, but it was raining and very windy at some points this time, plus I was just coming back from being sick... I guess I should give myself some slack for that, but I was a little bummed with my time. It was good to be back running with the track club, though. I was able to catch up with my friends who did show up. I'm glad I had the foresight to bring a change of clothes because I was DRENCHED. My clothes and shoes were sopping wet and heavy. It felt good to change into dry clothes and shoes, even if it were just for the ride home.
I'm signed up for the
Carlsbad 5000
on April 11 with
Rehab United
as a team - which should be fun. I missed the boat on the La Jolla Half Marathon, which said "FULL" when I tried to sign up yesterday. Am I bummed? No. Running in the LJHM was sort of an after thought to running the Carlsbad Half Marathon in January, and I was thinking about going for the triple crown (Carlsbad, La Jolla, AFC), but it wasn't a priority, getting healthy was the focus. Now I might have to rethink AFC and if I really want to do that one in the heat of August. There ARE other half marathons to consider.
Check out another running skirt give away at
Endurance Isn't Only Physical
.
I was in the mood for baking on Sunday, so I made a Red Velvet cake. I've been having issues with Red Velvet Cake I've had at restaurants. They aren't good. Either the cake tastes weird or the frosting is cream cheese frosting, which (in my mind) is all wrong. That's not how grandma used to make it. I scoured the internet for recipes and found this one that comes close to grandma's cake:
THE RECIPE FOR RED VELVET CAKE
The recipe for the frosting follows it. By the way, this frosting recipe contains enough butter to make
Paula Deen
squeal with delight.
Parenting (or in our case, Grand-parenting) rule #6.8 in the rule book:
"Never leave out any markers, pens, stamps, paint, and/or other media that a 6 year old can run a muck with."
What you're looking at is my dresser stamped with my husband's state license stamp. I guess the kiddo had a good time at it. No, he didn't get in trouble. It was his Papa's fault for leaving the stamp out, but the kiddo was made aware that this wasn't a nice thing to do, even though we thought it was funny.
Wednesday's Song:
Who Will Buy? - Barbara Streisand, London Theater Orchestra & Cast, Aaron Neville, etc...
PEACE

Photo by fleeglebingodroopersnork on Photobucket.com