The cold/flu is finally over! I guess it's really running a-muck because I keep hearing from others how they're getting over it or going through it.
My MIL wanted to have the whole family together to celebrate their 57th wedding anniversary, but the only weekend available for most of us was this past weekend. We all ended up at the Hotel Del Cornado , Friday through Sunday.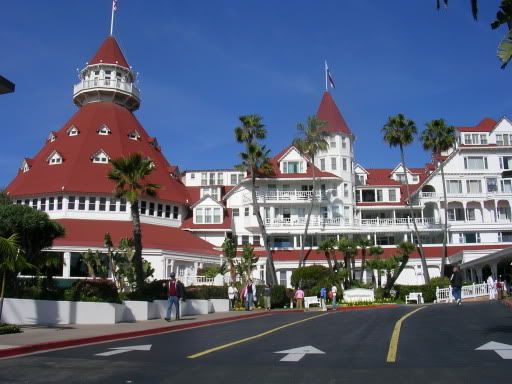 Since it was also my birthday on Saturday, hubbie sprung for a room with an ocean view!
It was very relaxing. I wished we could have been there longer, *
just the two of us*
, but it was still nice. For the first time in a few months, I really indulged in food and alcohol. A very good friend works as a manager there and he sent us over some wine upon our arrival and champagne for my birthday... Then there was the dinner for my in-laws AND the ginormous cake my friend sent over to the room after dinner... My husband and I took a couple of long walks on the beach and lounged around the pool, but it was no way considered workout. The pool-side Bloody-Mary's kinda changed that scenario... I plan on returning to workout mode sometimes this week, perhaps tomorrow. Eating is sorta on track but should be better by tomorrow.
It's time to change gears a little, now. It's back to more weight training and letting my legs recoup another week. My left knee is a little twingey but nothing serious. I have a 5k planned for the 4th of July and a half marathon planned for mid august.
One of the doctors I work with is planning to run in the Silver Strand Half Marathon in November, and asked if I wanted to join in. I'm intrigued but it's the same weekend my brother wants me to run with him up north. We'll see how it all pans out.
Peace